Our 3rd Home Anniversary: The Good, the Bad and Would We Do it Again?
Happy Home Anniversary to us! It's been 3 years since we bought our house - gosh, how time flies! We have come to love this house more and more with every year. A thousand projects later, I still can't believe how quickly the time has passed! Here's a picture I took the day we moved in. John's brother and his wife drove up from Atlanta to help us move in. It was an exciting day but exhausting!
I thought it would be fun to do a recap of the more significant project we have done in our home and share some before and after photos!
Our home is a work in progress. That's not new news. I love that it's not "done" because if it were, we would have to find a new hobby AND this blog would not exist. It just takes time and money, amiright? I'm starting to believe that home renovation takes more time than money. It's easy to overhaul a home all at once - it's hard to have patience and do a little at a time.
Starting with the downstairs....
When we had our major water damage headache, it all started in our powder room. It was a 4 month process where we had to identify the issue, fix it, and then replace all of the damaged flooring downstairs. We hired this work out and I'm so glad we did. It took 6 men a day and a half to install our bamboo floors throughout the entire downstairs (including installing all new baseboards). Pretty sure it would have taken us like 6 months to do this. Money well spent. The powder bath still needs to be styled and accessorized but for now, less is more.
I would absolutely most definitely have wood floors installed again. I love the dark walnut color, HOWEVER, they do show every single bit of dirt, grass that Cooper tracks in, and salt that falls on the floor while cooking. So, I sweep/vacuum every day. Sometimes twice a day. On the up side, it forces me to keep up with cleaning which is not the worst. If I could do it again, I might consider a slightly lighter color just so that dirt is more easily hidden.
Remember when John removed that pony wall? This was kind of a last minute, spur the moment decision and one which we are SO GRATEFUL that we pulled the trigger and knocked it down! It really opens up the living room and kitchen functionally and visually. We would absolutely do this again!
Paint is my favorite, inexpensive, instant gratification. It completely transforms a room, even if you don't change anything else. Choosing the right paint color is tough, though. Undertones are everything. I am very happy with the color we chose for our entry and front sitting room (Sherwin Williams Repose Grey). It's a nice light grey with cool blue under tones. It's calming and one of my favorite interior colors.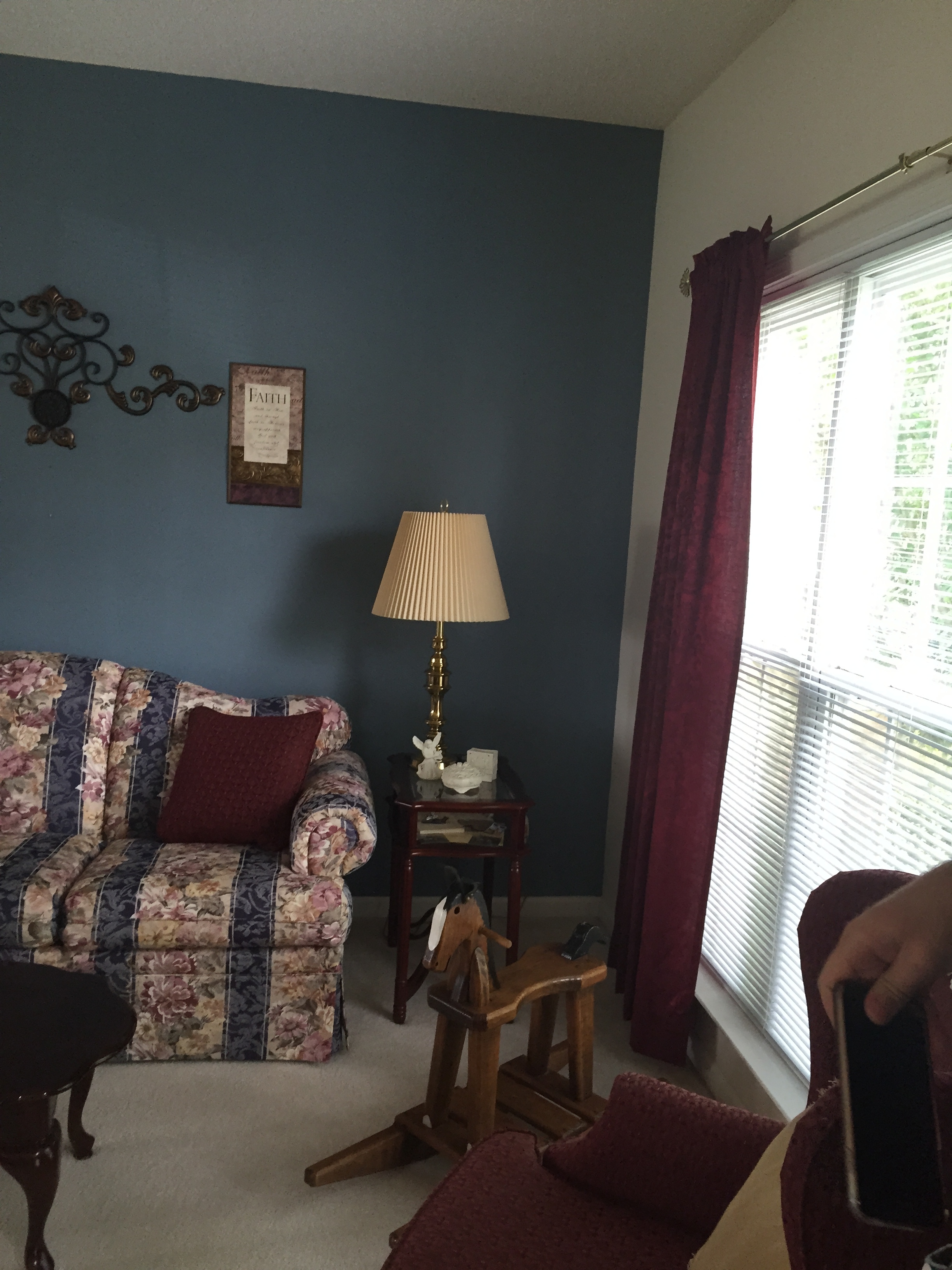 I have not, however, been completely happy with the living room color (SW Mindful Grey). I love the color but I don't think it's completely right in this room. The natural light is low in which makes it feel dark even on bright days. I'll keep you posted when I pick a new color - most likely white. I move furniture and decor around in the living room nearly every day. Until we can build our built in cabinets in here, this room will be "pending." The art will change, the shelves will get moved elsewhere, we will build built-in shelves and cabinets and rework the fireplace, that fan has got to go, and I'll probably completely change the furniture footprint. Big changes are coming hopefully this fall sometime. Stay tuned!
Early on, we swapped out the fixture in the dining room for this funky sputnik chandelier and I still love it! It's unexpected and I like that kind of thing in home design. I'm considering adding a ceiling medallion after the popcorn gets scraped off.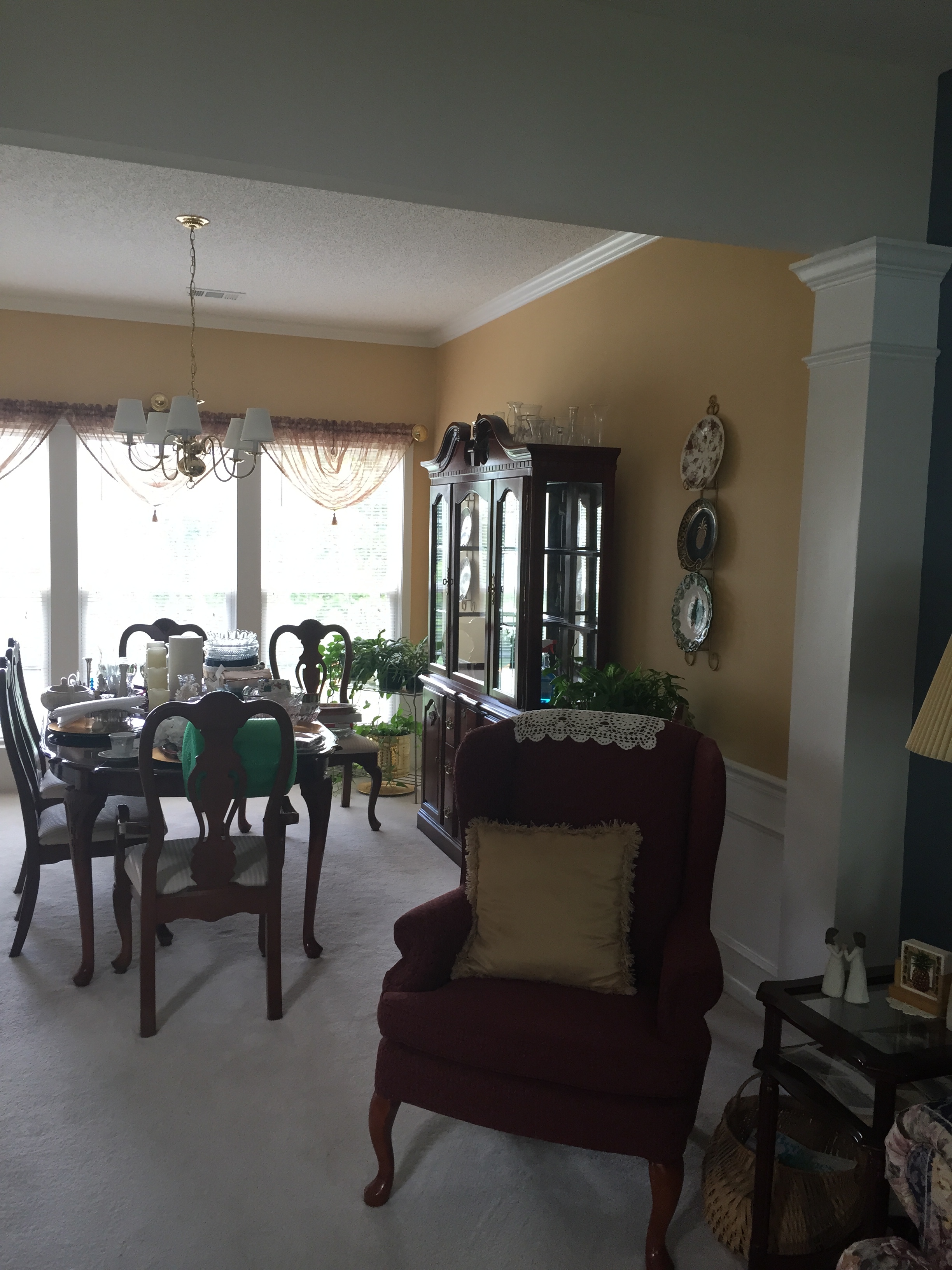 Moving upstairs...
This room is one of my favorite rooms in the house because of the awesome natural light! The room is situated on the front of the house and we have loved having friends and family stay in here. I lightened up the walls (SW Repose Grey) and kept the bedding light and layered to keep the room bright.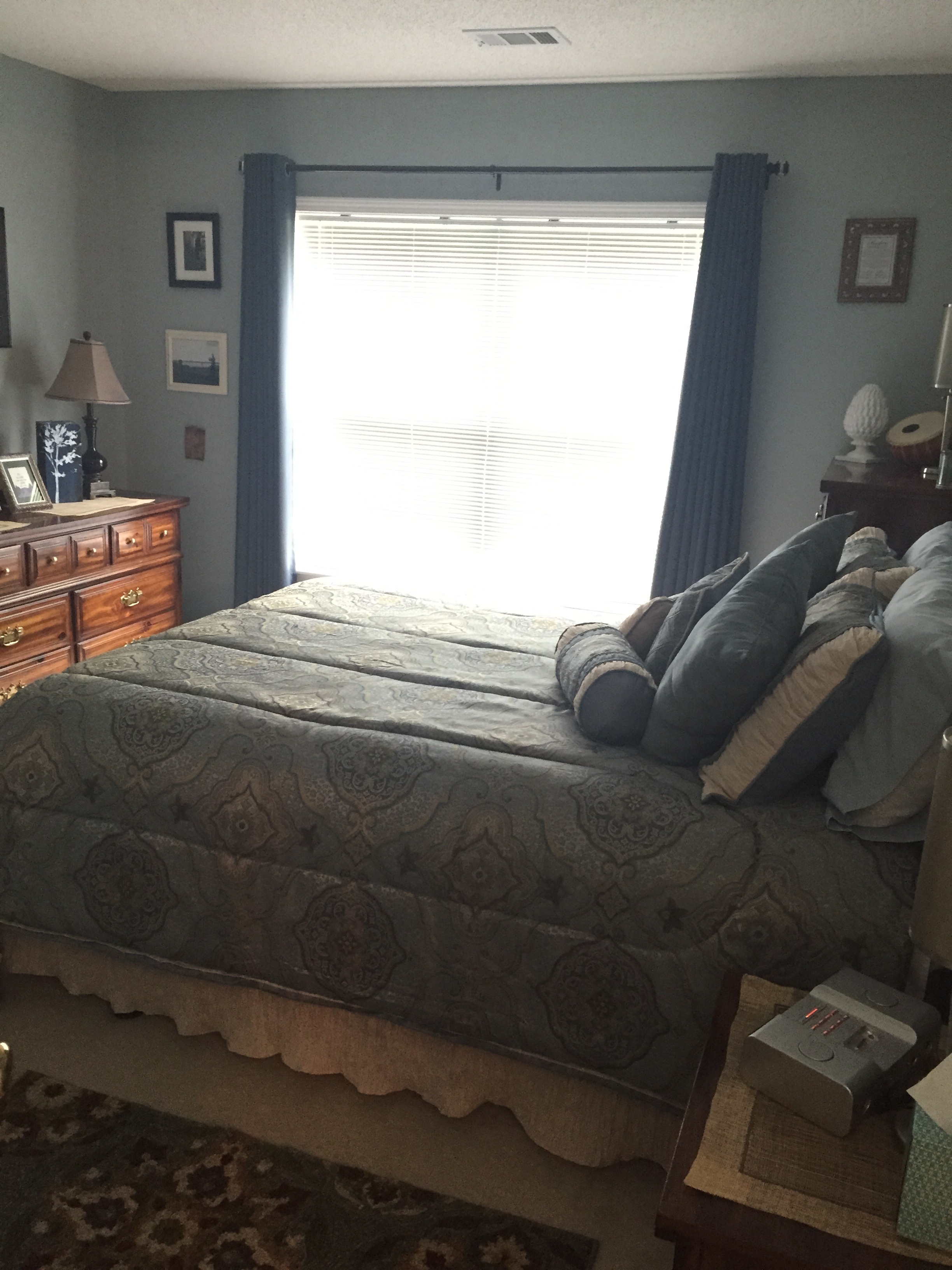 The bedroom next door started out as our home office but has since been changed back to a bedroom.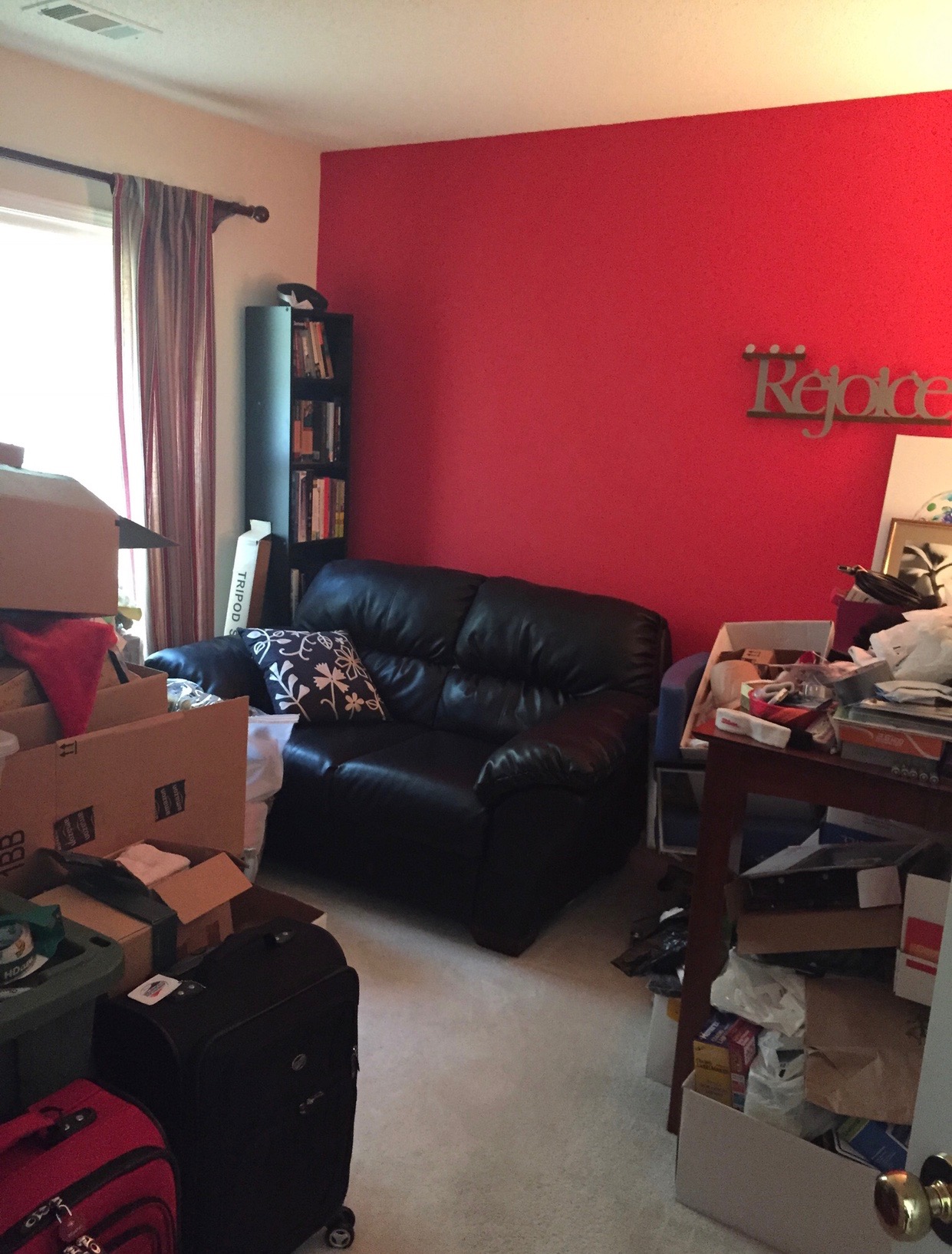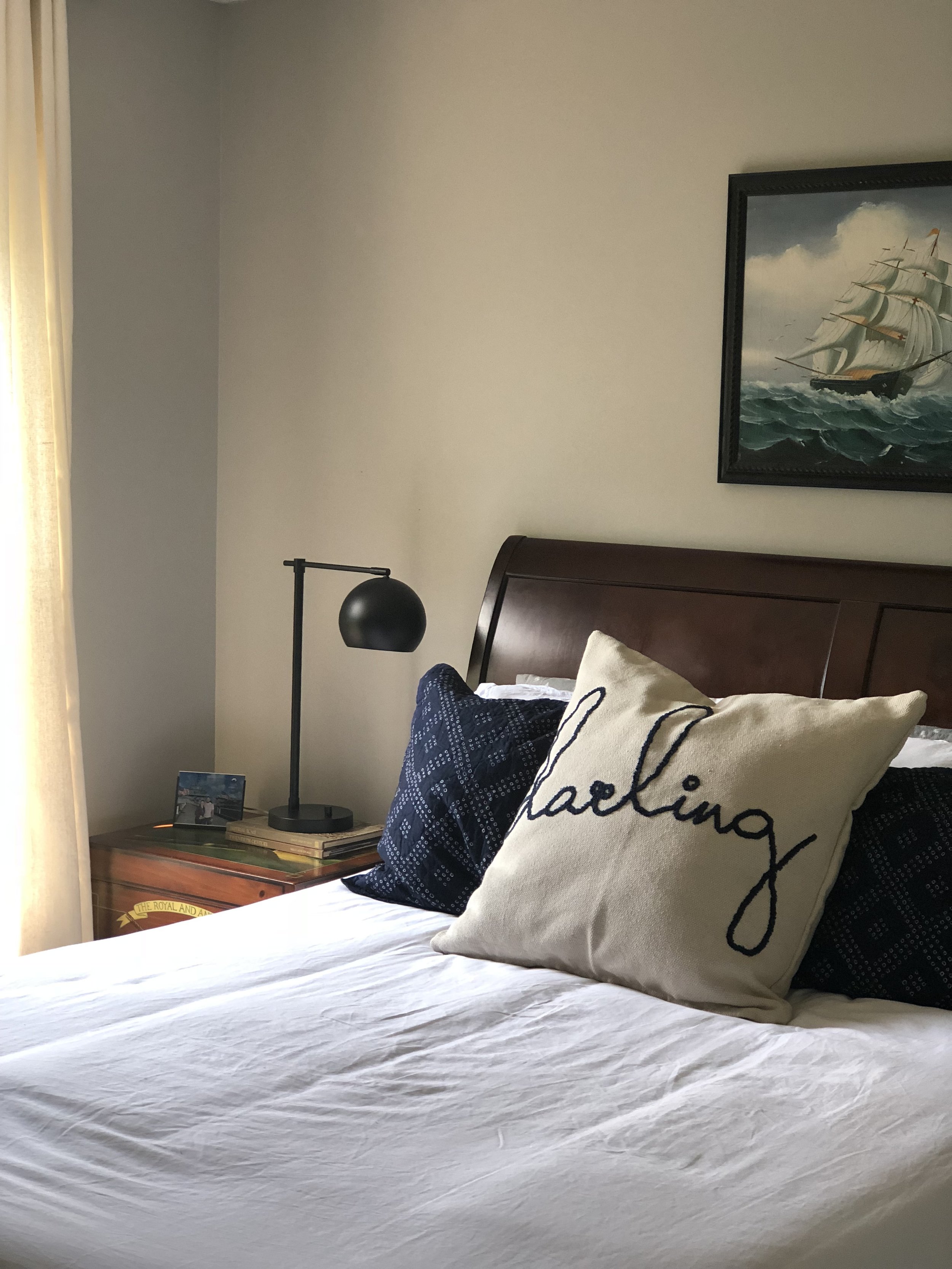 At the other end of the hall is our master bedroom suite. The bedroom is very wide and with the vaulted ceilings, has felt too spacious at times. We have been focusing on getting the proportions of furniture nailed down and I think we are almost there. We swapped out our queen bed for a larger king and upgraded our small nightstands for these three-drawer dressers. Yes, we have that much wall space. Originally, I loved the dark and moody Chelsea Grey in here. It feels a bit masculine and I like that in design. After all, it is John's room, too! However, change is a good thing. As we finish up our master bathroom, I'm seriously thinking about repainting our bedroom so that the two spaces feel cohesive.
We have just about rounded the corner with this master bathroom project! In case you missed it, here is my moodboard with all the sources linked. John demoed EVERYTHING (down to the studs), installed 4 new can lights in the ceiling, 3 wall sconces, moved plumbing, installed crown moulding, replaced the tub insert with a new tub, installed a Schluter Kerdy shower system, scraped the popcorn treatment off the ceiling, removed all the flooring, replaced water damaged subfloor and leveled it. Phew! Here's the full update. Even though we aren't finished with this major renovation, I would absolutely tackle it again. Not only have we learned so much about this type of renovation, but upgraded bathrooms (and kitchens) add incredible value to homes and are major deciding factors for future buyers.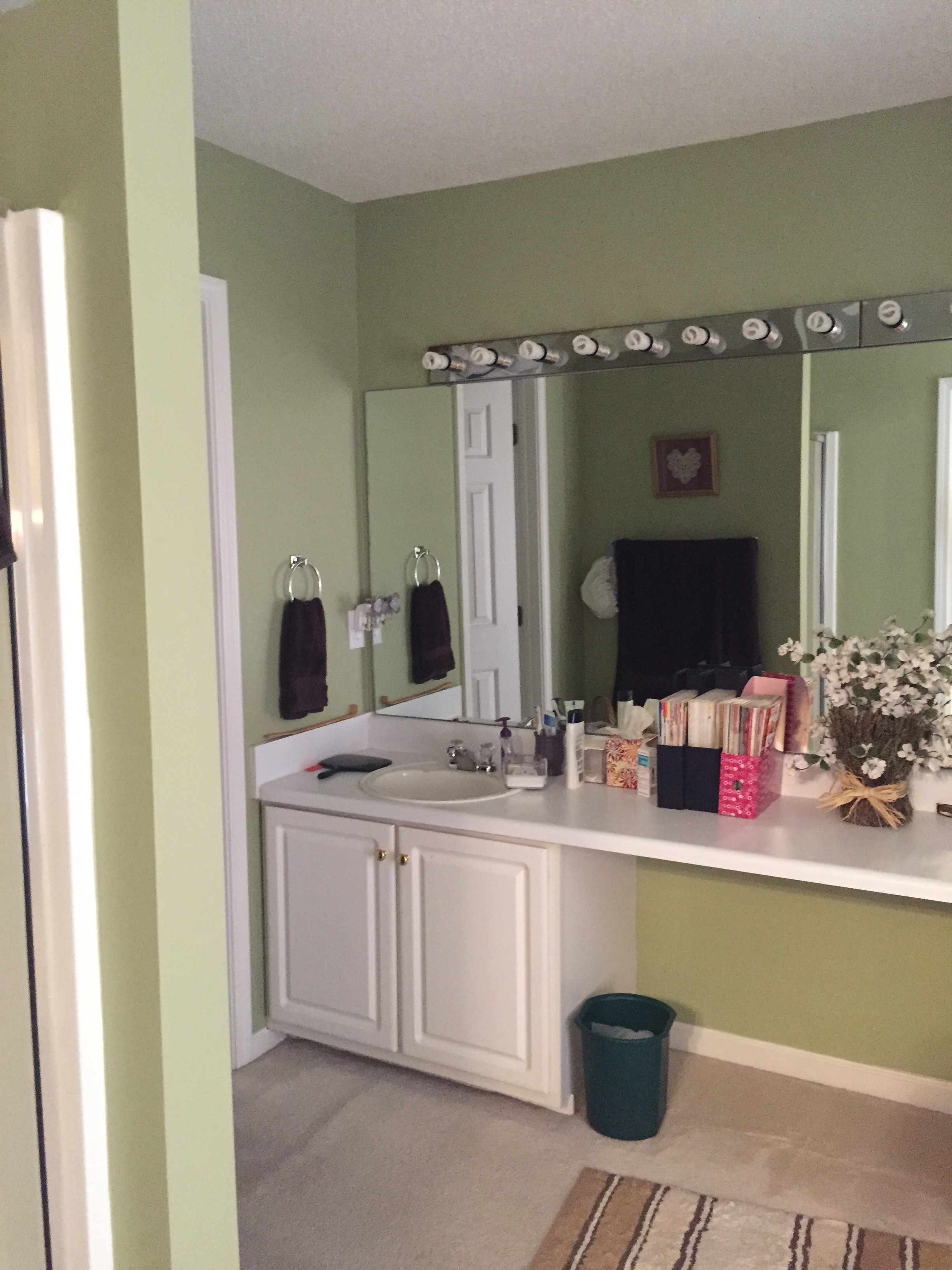 Heading back down stairs...
Like I said, paint makes a huge impact. I painted the oak banister and railings as well as the front door. Totally changes the look of the space! We have plans to remove the carpet and continue the hardwood floors up the stairs.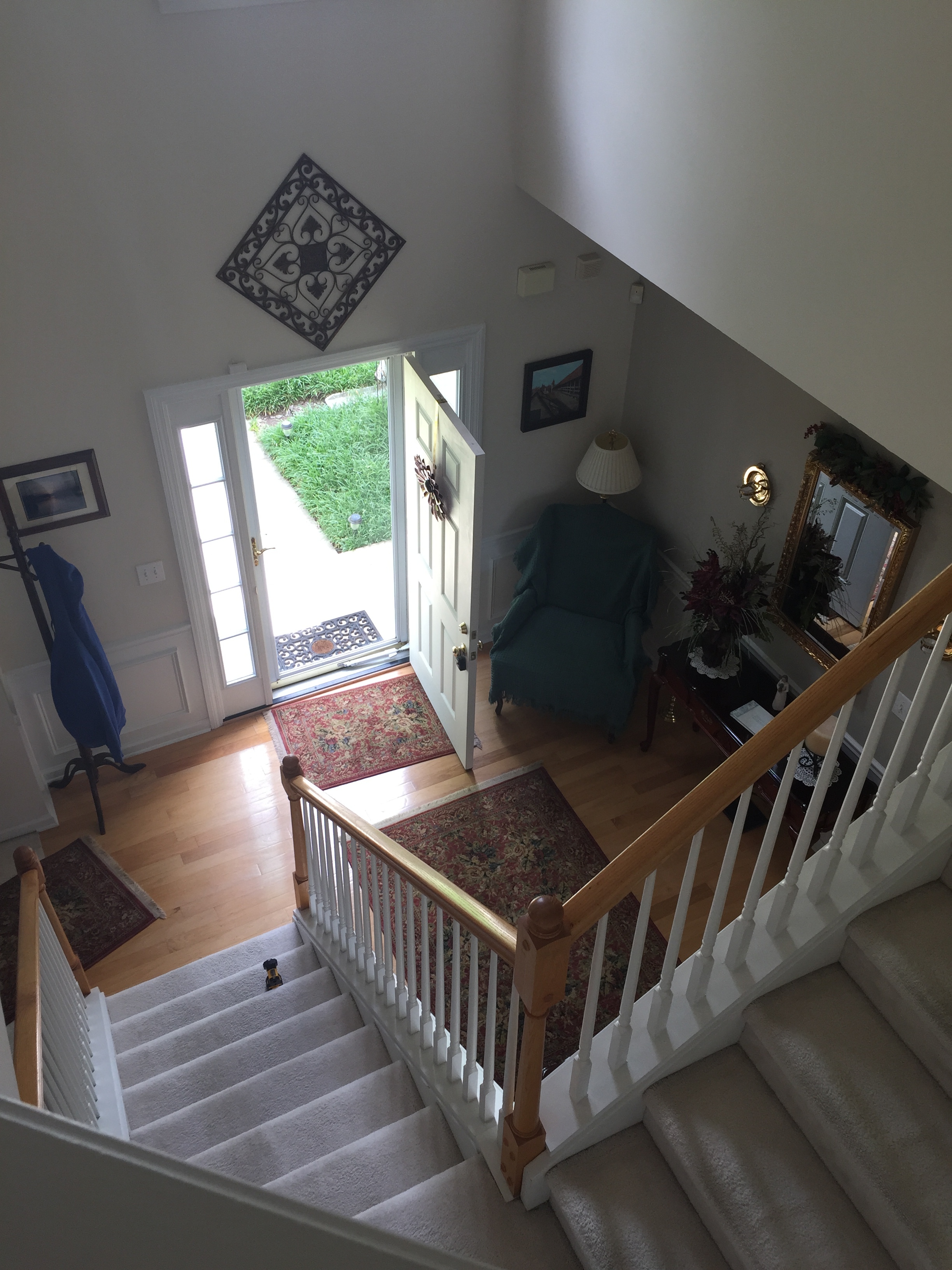 Moving outside to the backyard, remember the fence that John built last summer? This was a big undertaking but one that I'm so glad we tackled! Cooper gets to run around the yard and sun bathe and we get to have privacy when we have dinner on the patio. This summer, we plan to build a large deck for dining and entertaining (!!!) which will further transform this yard.
So that's it! Our first home tour. This weekend, John is finishing up the floor tile in the bathroom. It's looking great! I'll show you more tomorrow on my Instagram Stories. We are also going to finalize our deck plans which I am crazy excited about! Hope you have a great weekend!!